Let's Talk about Dealer Markups
Chip shortage, wire harness, and labor shortages.
A simple google search of "Automotive Chip Shortage" will give you plenty of great articles on the complicated nature of the modern "just in time global supply chain." Every day we learn more information on what manufacturers are shutting down, which New Car production is being delayed, or OEMs are deleting certain options because of a lack of microchips.
"…every car has at least two or three dozen microchips, which control everything from infotainment screens to fuel management and stability control. Luxury vehicles and cars with high-tech equipment like advanced safety systems and driver assistance features may have 100 or more processors onboard…"
Vehicle manufacturers are often not able to start the build process on a New Vehicle until certain items requiring semiconductor chips are installed early in the production cycle. This means manufacturers had to stop all production until certain key safety components requiring chips arrived onsite.
1.7 million fewer vehicles were produced in 2021 compared to 2019
There are little to no cars on dealer lots at any given time.

The lack of New Cars in the market pushes New Car buyers to shop and buy Used.
Lack of supply and more demand increases the price for both New and Used.

Eastern Europe and Asia.

Many parts, including vehicle wire harnesses, are made in Ukraine.
Many semiconductors are made in Asia which is seeing a rise in Covid cases that result in factories shutting down for weeks or even months.
Neon gas and other precious metals used in semiconductor, battery, and tire production are mined in Ukraine and Asia and assembled in factories worldwide.
The automotive industry is no different than the general labor market. People are looking to work remotely or move out of cities to find a better work-life balance. Leaving car dealers and vehicle parts manufacturing unable to find enough qualified people to work in their locations.
You may think those vehicle markups are just a means for the business to gain higher profits. That's not really the case.
We are selling fewer cars per month.

Operating costs have to spread over a few units sold, which means dealers need to sell cars at a higher price to maintain the same profitability level..
If we sell 50% fewer cars, we need to make 50% more per unit to break even.
---
Why the Dealer Markup over MSRP?
Dealer market adjustments are certainly more prevalent now, but they have been there for some time. Legacy dealers have MSRPs. Traditionally we held a vehicle "Market Value" to represent the discount below MSRP, or in the digital age, sale price relative to the invoice value. Non-traditional Electric Vehicle OEMs like Telsa, Rivian, or Lucid change the selling price listed on their site or app. Over MSRP or simply adjusting the selling price, the result is the same. Prices are rising and guests are paying more to get themselves into a new vehicle.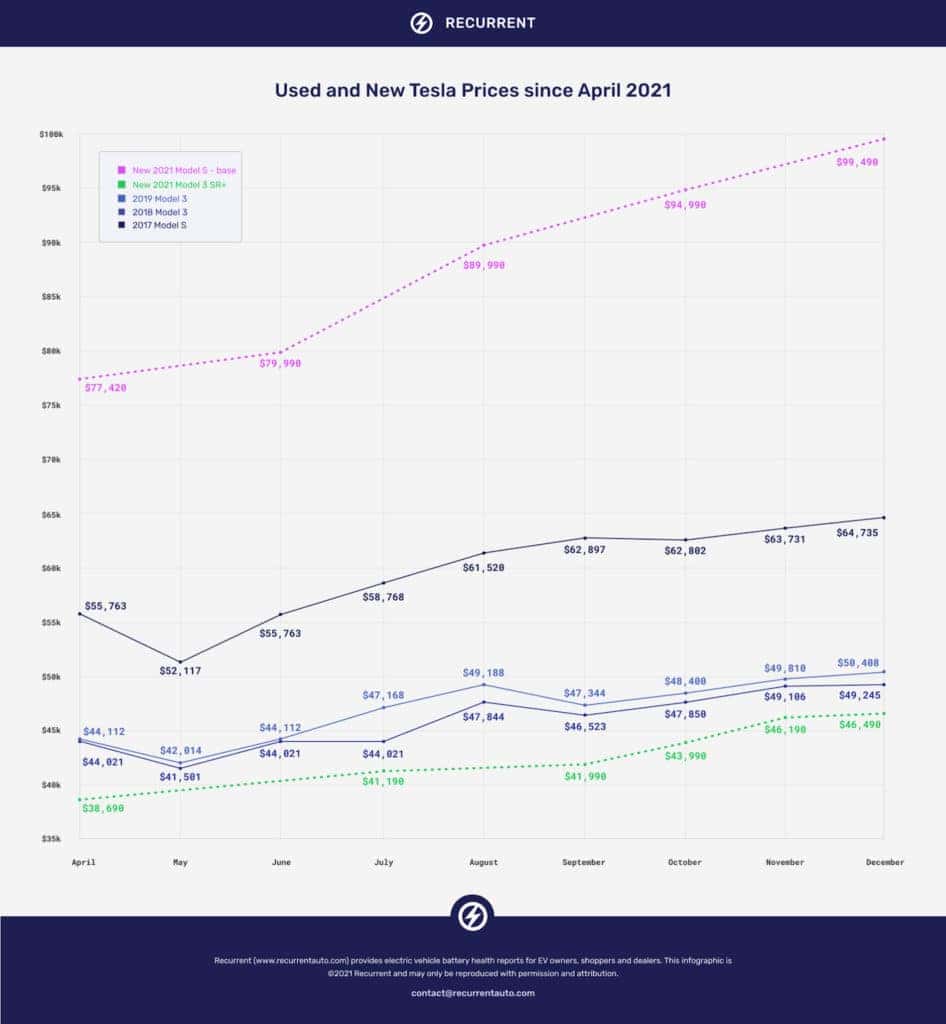 Green Car report has this great graph above that illustrates Tesla's new and Used Price in 2021. Click here or the image above to read the whole article.
Yahoo News did a great article on the markup above MSRP per model.
The report from iSeeCars suggests that the average new car is currently priced 9.9% over its MSRP, equaling a $3,753 bump over the sticker the car shipped with.
---
Question and Answers.
We have been fielding many calls, chats, and emails from our guests about what they should do. Here is a frequently asked section that we have taken from our recent online chats and recent phone conversations with our guests
I've bought many cars from you in the past and don't want to pay a markup over MSRP. What can you do for me?

First of all, Thank you 🙂  We appreciate your business. 

The good news is that we have solutions for you. While some vehicles in extremely high-demand like Electric vehicles, Convertibles, and high-performance cars (BMW M or MINI JCW) will likely have some form of market adjustment it should be in line with the overall market for like vehicles. 

My personal guests' best advice is to place an order for your next car early. Many pre-ordered vehicles, especially for a guest, are not marked up. At the same time, you may have to wait 3-5 months to get the car. You will get what you want and not waste money on options or features you don't need or want. 

Why are electric cars so expensive?

As you can imagine this is a complicated question. 

Firstly I tell my guests to calculate their projected fuel savings from their current car to any potential car they are looking to buy. The EPA has an excellent fuel cost and saving calculator.. Click here to get started. 

Many BMW and MINI vehicles have great MPG. Often, an internal combustion engine will be the cheaper cost of ownership, especially if you don't keep your cars longer than 3-5 years. 

Suppose electric is still the direction you want to go. Check with your tax professional on all the Federal, State, and local government rebates and incentives. Residents in CA can also use the California Clean Fuel Reward program to help reduce the cost. 

My current vehicle lease is coming due soon. What can I do?

Starting nine months before your lease ends, you will begin to get emails, calls, and text messages from our team and BMW MINI Financial Services. We will go over all your options with you, but it is essential to respond to those messages when you get them.

I can't find the car I want?

Inventory on the dealer lot changes daily. About 70% of the cars we receive are pre-ordered for a guest. Check with your BMW Sales Advisor or MINI Motoring Advisors often. While not typical, we get quests who back out of a pre-order vehicle, or the OEM will send us a few supplemental cars toward the end of the month. Your advisor is here to help you, so it's important to communicate often. 

Don't discount looking at used or Certified Pre-Owned Vehicles. While used car prices are higher than last year, these vehicles still represent the best value in the market. 

What if I want to keep my current car?

For many guests, this is the best option. Holding onto your current car and adding a vehicle maintenance plan or warranty to help protect your investment is a great solution. We can provide you with low-cost options over the phone or in person. We need your VIN and the current miles on your car.  

When will the market return to normal again?

Excellent question and the honest answer is, we do not know. 

Certain parts of the traditional car-buying experience are not likely to return. Dealers and manufacturers are not expected to keep a large volume of vehicles on the lot. The industry is moving to have more cars ordered online, built specifically for a guest, and the vehicle delivered to the customer at the dealer, or at home, at a later date.  

We do not anticipate a significant uptick in semiconductor chip production, an increased supply of rare earth materials, or a correction in the labor market in 2022. But, like everything, no one knows. We will continue to share information as we get it.